China – Big Hippo Waterpark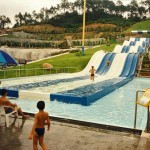 Australian Waterslides and Leisure's 4 Lane Racer water slide was a great addition to Big Hippo Waterpark in China.
The Racer slide perfectly complements all the other water rides installed into this park and is a must-have addition to all waterparks offering competition between riders and a safe and exhilarating family ride.
Koh Samui – Domestic Slide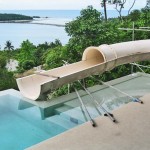 Australian Waterslides and Leisure can design to all parameters for your waterslide, offering custom design water slides for the most difficult of locations.
This 800mm diameter enclosed tube slide was designed to wrap around the outside walls this magnificent residence in Koh Samui for the private use of the owners family and friends.
Vanuatu Install of Children's Play Equipment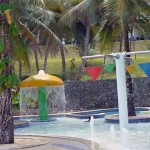 Australian Waterslides and Leisure specialises in bringing fun water play activities to holiday destinations in Australia and overseas.
This resort in Vanuatu made their play pool come alive by adding Australian Waterslides and Leisure's waterplay equipment to entertain their smaller visitors and to add a point of difference to other resorts to attract a better occupation rate.