Latest Australian Waterslides Projects
Australian Waterslides has been busy with a number of Australian projects including Holland Park Pool in West Wyalong, Ararat Swimming Pool, our biggest KIPS (Kids Interactive Play Structures) yet at Airlie Beach and the Murray Bridge Swimming Centre and Water Play Park in South Australia.
Taupo DeBretts, New Zealand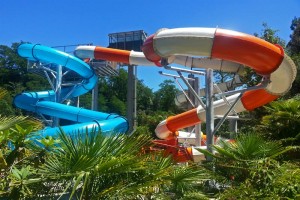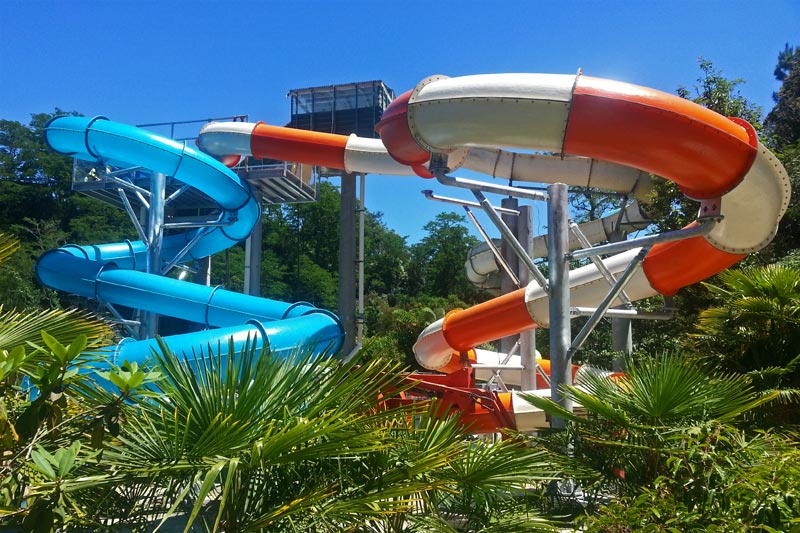 Barry Kirkland owner of Taupo DeBretts says "This new development complements our Accommodation, Holiday Park and Day Spa, and triples the thrill factor at Taupo DeBretts."
Construction of the waterslides began on 16th November and has been completed in record time, ready for the holiday season. The addition of the state-of-the-art ride supports the existing iconic Dragon Slide and Interactive Warm Water playground.
The slide components arrived mid-December and in just one week the slides were assembled and sections lifted onto the steel framing, piece by piece. With the help of local tradesmen and sub-contractors "What an incredible feat" says Barry.
Read more about this project in our news section.
Moonta Bay Children's Waterpark, Moonta Bay, South Australia
Free council facility by Copper Coast Council SA – huge success.
Funfields Recreation Park, Victoria
Tandem Tube Raft Ride
Completed on time
Fantaseas Adventure Cruises, Airlie Beach, North Queensland
Open Body Ride off Floating Pontoon
Completed on time
Leanyer Recreational Centre, Darwin
2 x Body Rides
1 x Tandem Tube Raft Ride
Cranbourne Aquatic Centre, Melbourne, Victoria
1 x Body Ride
1 Tandem Tube Raft Ride
Playford Aquatic Centre, South Australia
Combination Open and Tube Body Ride
Complete on time
Launceston Aquatic Centre, Tasmania
Open "SupaJet" Body Ride
Completed on time
Funfields Recreation Park, Victoria
Broken Hill Aquatic Centre, Broken Hill, New South Wales
Australian Waterslides & Leisure looks to the beauty of nature as a basis for our waterslide designs. Below you can see how we have utilised a scallop shell, the ripples of sand swept sand and some ocean wildlife in designing the KIPS (Kids Interactive Play Structures) of the Broken Hill Aquatic Centre.
1200mm Diameter Tube Body Ride
Mackay, North Queensland
Open Body Ride
Completed on time
Adventure Park, Victoria
6 Lane Racer Slide
Completed on time
Holdfast Shores, The Beach House, Glenelg, South Australia
Body Rides & Raft Ride
2 x Body Ride Rides off a 12.5m platform height of 100m each in length
1 x Dark Black Hole
Tandem Tube Raft Ride
Completed on time
Website: www.thebeachouse.com.au